by Jenny Monzon
A lead magnet is just what it sounds like.
Once you've created brand awareness, you'll need to generate leads by creating an irresistible offer containing valuable information, usually content that can help solve a problem your prospects have, that they can get their hands on in exchange for their contact information.
Some examples are free educational guides, free trial periods, e-books, cheat sheets, swipe files, templates, coupons, quizzes, webinars and case studies.
And YES, you absolutely need lead magnets to attract customers to your business, products and services.
OK. But how do I create a captivating lead magnet?
As mentioned above, there are different types of lead magnets so depending on which one you decide to create for your business, you may need high quality images and text, the right tool or platform such as Canva for an infographic, Microsoft Word for a checklist, Zoom app for a webinar, etc., and of course you'll need a bit of creativity!
Some key things to keep in mind is that people want things easy and now. So give them what they want.
Be specific in your offer. What solution do you have for their problem?
An email address seems like a small price to pay for something that will make their life easier, doesn't it?
Your lead magnet should be high quality and professional.
Just because it's free doesn't mean it should look or feel it.
Don't be afraid to really deliver and giveaway high value, knowledge and information but make it easily consumable at the same time.
You've got their attention, now you want them to be wowed,  stick around and become a paying customer of your products and services.
Got it?
OK. But what if I don't have the time to create an e-book? What if I'm not ready to do a webinar right now? What if I don't feel creative enough?What if I just don't want to create one myself?
Thankfully, there are systems out there that have already made, done-for-you lead magnets that you can offer to your audience.
I recommend My Lead System Pro (MLSP), an online community that provides up-to-date educational trainings, webinars, affiliate products and resources to help your brand win online.
CREATE AN E-BOOK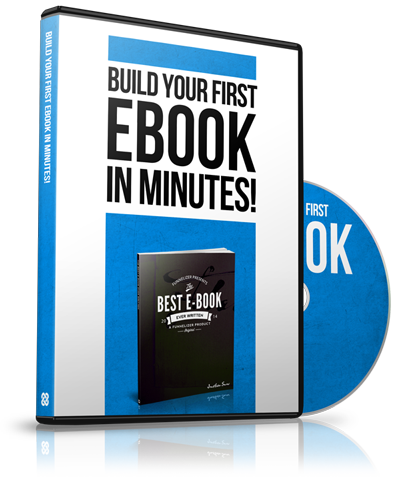 FREE DOWNLOAD: Step-by-step PDF + Video to Create Your 1st E-Book Even if You're Brand New (free tools included)
Bonus Tip:
When a prospect opts-in to your lead magnet, that is gives you their contact information for your content, you can hit them with a low-dollar (less than $20) offer on the Thank You page to convert them into a customer right away!
And that, my friend, is an initial customer acquisition! 
Ready to start generating those leads?
Let's get to work!