When I accepted the challenge to speak at Social Media Day Jacksonville, I struggled a bit because at the time Facebook had stopped chatbot platforms while Mark Zuckerberg was in front of Congress.
All third-party applications that collected data from Facebook users were paused for about a month. Once they enabled them again, marketers had to understand what Facebook wanted us to do now in order to comply with new Terms of Service and continue to provide a great user experience while using automation tools.
Marketers many times get so seduced by automation tools that they forget that we are communicating with humans. Our customers are humans. Humans pay for things!
But as more and more brands continue to adopt Messenger chatbots to their digital strategy, some Facebook business pages have been banned for violating Facebook's Terms of Service.
You know, the stuff no-one really cares to read. I've included the link twice so far so there's no excuse.
It would be a disservice to my peers and to my audience at Social Media Day to just talk about the functionality of Messenger chatbots. Or to show off a bunch of statistics and graphs without first showing how to "humanize" your brand.
So,
WHAT DOES IT MEAN TO HUMANIZE A BRAND
 ?
Humanizing your brand with bots. This sounds like an oxymoron, doesn't it?
In a recent poll I conducted on some Facebook groups, I found that people's main concerns when it comes to Messenger chatbots were privacy issues and that bots "take away" from the social experience.
But what if I told you that you can actually add value to your audience and to your customers by having meaningful conversations with them using a chatbot?
There's one thing that connects us all. Since the beginning of civilizations this is true and this isn't likely to change.
It's called storytelling.
STORYTELL – THE WRITING IS ON THE WALLS
I don't have to quote a plethora of scientific studies (and I am certainly not a scientist) in order to support the fact that human beings learn and connect through storytelling.
In fact, the most common denominator in nearly all of the twenty speakers who presented at Social Media Day Jacksonville was storytelling.
This isn't a fad!
Even when the time comes when we will wear contact lenses that are connected to virtual reality, rest assured that forward-thinking marketers will have their brands telling stories in order to create meaningful sentiments with their audience.
Remember Apple's Think Different campaign?
In this historic piece of advertisement, Steve Jobs and Chiat/Day didn't talk about any product or their benefits. They didn't talk about features or about their competitors. They spoke about brand culture. And they did it with great storytelling.
This is old-school!
It's so old-school that since the beginning of civilizations people told stories and recorded them.
The writing is on the walls. Literally! Look at the hieroglyphs that are still written on the walls.
AUTOMATION
Now that we've established that storytelling isn't going anywhere, let's dive into Messenger automation. AKA chatbots, shall we?
To help you understand better how you can use automation to humanize your brand, I've included this blog post where you can get familiar on what Messenger Marketing Can Do For You.
What if the  chatbot for your event would engage your audience with the following dialogues:
"We appreciate your patience yesterday morning during registration. We know it was a bit chaotic".
Or what if it said:
"Did you know that one of our speakers arrived in Orlando at 5am yesterday morning and one of the guys on Dennis' team drove round trip from Jacksonville to Orlando (a 5-hour drive) so he could be at his workshop at 8 am?
Do you believe this event's bot would give its audience a human feel?
I think so!
ATTRACTION MARKETING BUNDLE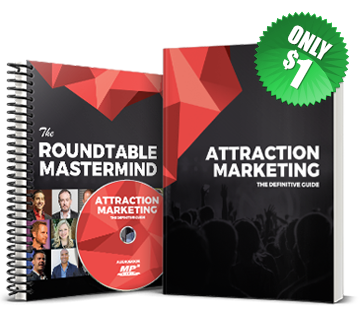 Get a 68-page "all-inclusive" e-book, 82-min mp3 audiobook, and a roundtable mastermind to help you attract buyers for YOUR business.
With these powerful marketing automation tools you can not only build a list of subscribers, you can build long-lasting relationships with your audience.
With the right chatbot developer on your marketing team your brand will stand above the rest of these bland, irrelevant, annoying bots that clog up our space.
INTEGRATIONS WITH OTHER APPS
More complex tasks can be executed using a Messenger chatbot with third-party app integrations. You can:
Create InfusionSoft contacts from new bot subscribers.

You can add subscribers to your CRM

Get your team Slack notifications for new subs

Register subscribers to your webinars

And so much more! There are hundreds of integrations now that most bot platforms have APIs open
RESOURCES
Why Your Brain Loves Good Storytelling – Harvard Business Review
Danny Monzon's Social Media Day Jax presentation
Happy marketing!